AYURVEDIC SPIRITUAL SELFCARE

Elevate Your Skin and Soul

I help you discover the SELF in selfcare
AYURVEDIC SPIRITUAL SELFCARE
Elevate Your Skin and Soul
I help you discover the SELF in selfcare
EXPLORE PRODUCTS
All Natural Ingredients
Handmade in the tradition of Ayurveda
Ayurvedic Based
Guidance and mentoring infused with consciousness-based knowledge and techniques
More than just Skincare
Deeply compassionate and fiercely supportive of your inner development
DISCOVER YOUR BALANCE, HAPPINESS AND WELL-BEING
Ayurvedic skincare to nourish your soul.
Welcome to the world of Pure Ishvari, where ancient traditions of Ayurveda and self-care are nurtured and preserved for the modern woman and man. These traditions support the integration of your human experience - body, mind, heart and soul.
Now more than ever, we are in need of this great tradition of timeless wisdom and knowledge. Disconnection, depression and stagnation plagues so many. We have everything for our survival yet, in our hearts there is so much emptiness.
About Us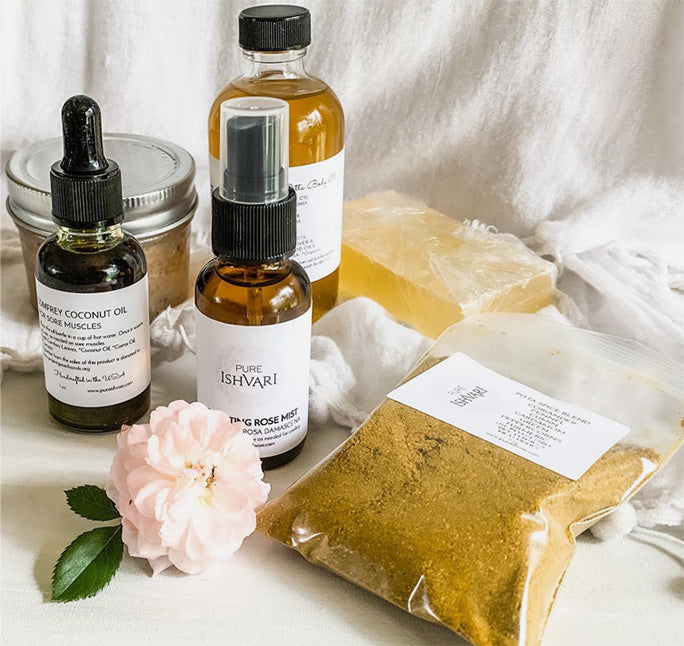 BEAUTIFUL OILS TO NOURISH YOUR SKIN
Ayurvedic Skin & Body Care
Helping people manage beautiful skin, mind and soul utlising traditional Ayurvedic methods.
MEET APARNA KHANOKLAR, FOUNDER OF PURE ISHVARI
Ayurveda for Your Skin and Mind.
Aparna has been a student and practitioner of Ayurvedic wisdom on various levels for almost 20 years. Trained as an Ayurvedic Lifestyle Counselor (350 hours) through the American Institute of Vedic Studies, she is also certified through New World Ayurveda as a Spiritual Mentor (700 hours). Aparna has studied Ayurvedic Cosmetology with Vyoma Ayurveda in Mysore, India.
She is a trained Panchakarma Technician from New World Ayurveda. Aparna is a certified instructor of the Heart-Based Meditation. She is a mother to two beautiful children, an Ayurvedic postpartum doula and author. Aparna is learning to grow Ayurvedic herbs and roses and lives in Canton, MI, USA.
READ MORE
NURTURE, NOURISH AND AWAKEN YOUR FULL POTENTIAL
Ayurvedic Lifestyle
Pure Ishvari aims to support you in finding balance, happiness and well-being.
Testimonial
Happy Customers
Absolutely wonderful! I have purchased several Pure Ishvari products over the last year and have been amazed with all of them! I'm putting the warmer/body oil combo and facial oil on the top of my Christmas list this year! Outstanding, love infused quality all around!
The soothe calm oil is amazing. I work through ptsd and anxiety, this oil helps me tremendously. i cant wait to get the restore! thank you for putting so much love and energy into your products!
I love my Ishvari By Aparna oils and balms. They are luxurious, powerful and so nourishing. I can also feel the loving energy and sacred intention they are made with. I use the face oil every night, and the balms both in my self care practice and with my clients during Marma Therapy, and Vedic Counselling. Divine Creations by a Divine Being ❤
My top favorite products: face oil, sleep balm, and healthy breast balm! I am also loving the Nasya oil and I can't wait to see what else is offered by Ishvari! I highly recommend these top quality health and beauty products. My favorite line!!
I have now been using Ishvari for 6 months and just keep falling more and more in Love with Aparnas product and the Eastern/Indian philosophy behind the products too. they have a much deeper understanding for how our body/skin works compared to the products made in the vest! This product are also made from organic herbs, plants and trees, not tested on animals, but used for thousands of years as remedies💕🤗 Only the best is good enough for me!
NEED GUIDANCE?
Pure Ishvari is here for you.
Speak to Aparna on how you can CREATE balance and bliss in your life.